Scope/Description
This guide will run through the steps to import the AWS Data Sync KVM image into Houston to deploy for Amazon to facilitate cloud backups.
Prerequisites
Have a 45Drives Storinator shipped from us with our Ubuntu 20.04LTS image installed on it OR run our Ubuntu pre-config script that brings your image to parity with a freshly installed 45Drives Ubuntu image. You can find that script here.
Steps
From the terminal, cd to /var/lib/libvirt/images . Amazon shipped units should have an image in this directory called datasync-20210211-x86_64.qcow2
If this qcow image does not exist, it can be found at \\192.168.16.87\smbshare\ISO\datasync-20210211-x86_64.qcow2. Add this file to this directory so libvirt has permission to access it.
From the Houston UI, navigate to the "Virtual Machines" tab. Click Import VM.

Give the VM a unique name such as "AWS Sync Agent" then for the installation source, choose the image at /var/lib/libvirt/images/datasync-20210211-x86_64.qcow2 . For OS choice, select CentOS 7, and make sure to select 32 GiB of RAM. Also, uncheck "immediately start VM". then click Import.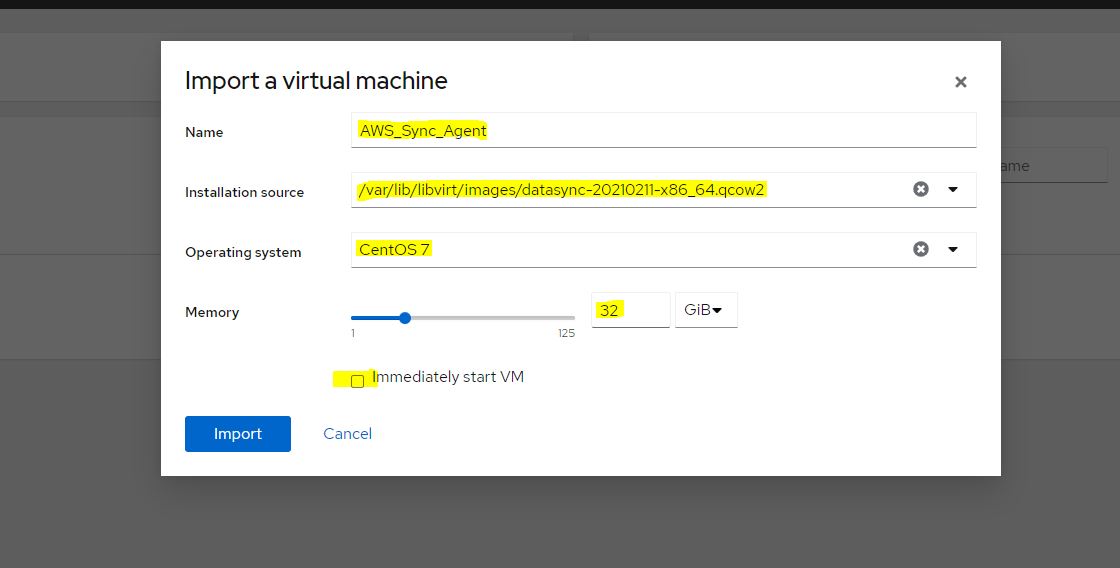 Click on the name of the VM in blue under your virtual machines tab.
Under Networks, click edit, and change the interface type to "Direct attachment" and make sure the source interface is one that has access to the internet. then click save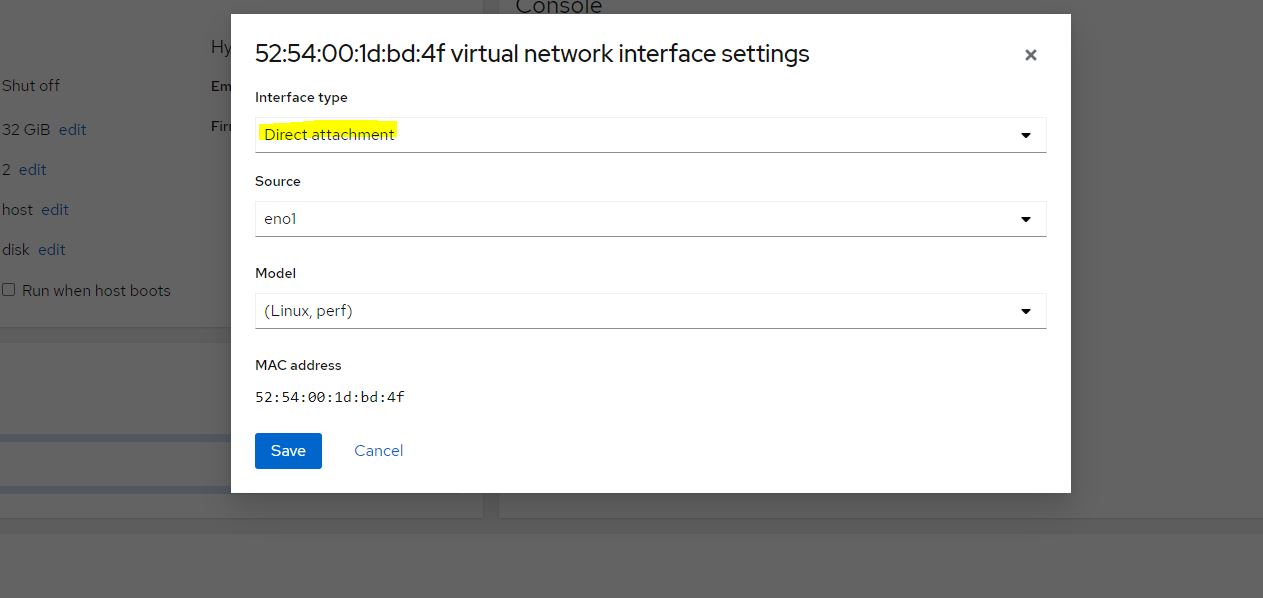 Under Virtual Machines, click on the name of the newly created VM. This will bring you into the settings for this VM.
Set the vCPUs number to 4
The VM is now ready to be started. Click Run.
The VM will start with a console on the right side of the screen. Once the username prompt shows up enter the default credentials. User: admin Password: password
The UI should show an IP address under "Currently connected network adapters" If it doesn't, press 1 to move into Network Configuration. Once in that menu, press 2 to Configure DHCP or 3 to set a static IP. Choose the eth0 adapter, and then exit back to the main menu.
The system is now ready to test the network. press 2 from the main menu to test the network connection to ensure it is working as intended.
The system is now ready to get an activation key for the end-user to set up in their AWS dashboard. Press 0 to get an activation key

Set the region to us-west-2
Set the service endpoint to Public endpoints

Copy the activation key and give it to the customer so they can begin configuration.
Verification
Troubleshooting
If the VM won't start, it is most likely in the wrong directory. You need to have it in a directory and that libvirt has executable access, which is /var/lib/libvirt/images