Scope/Description
This article describes the process to connect a samba share to Nextcloud.
Prerequisites
Samba Share configured
Nextcloud configured
Internet Access
Steps
Installing smbclient package
Ubuntu
apt install smbclient
CentOS
yum install smbclient
Connecting SMB share to Nextcloud
Go to https://SERVER-IP/nextcloud. Go to "Apps", find "External Storage", Click "Enable".

Go to "Settings>>Admininstration>>External Storage"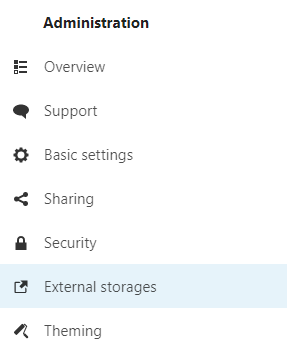 Fill in required information, i.e. Name, SMB, IP, Path and samba login information. Click the check mark to connect.

Name: What you want the share / folder name to appear within NextCloud
External storage: SMB /CIFS
Authentication: Username and password
Configuration

 Host: IP or hostname of server
 Share: Name of share (NOT PATH TO SHARE, JUST THE NAME)
 Remote subfolder:
 Domain:
Username & Password: SMB credentials to access the Share

Verification
To verify the permissions are working correctly create a file on the nextcloud side. Access the server terminal check the permissions using ls -al. Make sure you are able to delete/edit in Nextcloud.
Troubleshooting
Note that whichever user is used to map the SMB share into Nextcloud will also be the owner user/group of the files if the SMB share is accessed locally.