Connecting SMB Share to Nextcloud
Scope/Description:
This article describes the process to connect a samba share to Nextcloud.
Prerequisites:
Samba Share configured
Nextcloud configured
Internet Access
Steps:
Install smbclient on the server.
Ubuntu:
apt install smbclient
CentOS
yum install smbclient
Go to https://SERVERIP/nextcloud. Go to "Apps", find "External Storage", Click "Enable".

Go to "Settings>>Admininstration>>External Storage"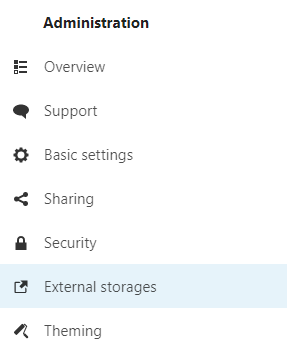 Fill in required information, i.e. Name, SMB, IP, Path and samba login information. Click the check mark to connect.

Verification:
To verify the permissions are working correctly create a file on the nextcloud side. Access the server terminal check the permissions using ls -al. Make sure you are able to delete/edit in Nextcloud.
Troubleshooting: