Increasing Grafana Logging Period
Scope/Description:
This article covers increasing Grafanas logging period.
Prerequisites:
A working Ceph cluster running Ubuntu 20.04 with Ceph Octopus.
Access to the cli of the admin/metrics node.
Extending Logging Period:
Open /etc/systemd/system/prometheus.service in your text editor for choice and add the following line:
--storage.tsdb.retention.time=x
Your config should now look like the below screenshot, substituting 1y for your desired time.
Your retention period is now set though the actual log files are by default outputted to /var/lib/prometheus which pulls from the boot drives.
To avoid having data on your boot drives it's recommended to mount an rbd image to /var/lib/prometheus for additional storage
We will also need to reload the systemd daemon to apply this change, you can do so with the command below:
systemctl daemon-reload
Providing Additional Log Storage:
Go to the Ceph dashboard and create a new block image.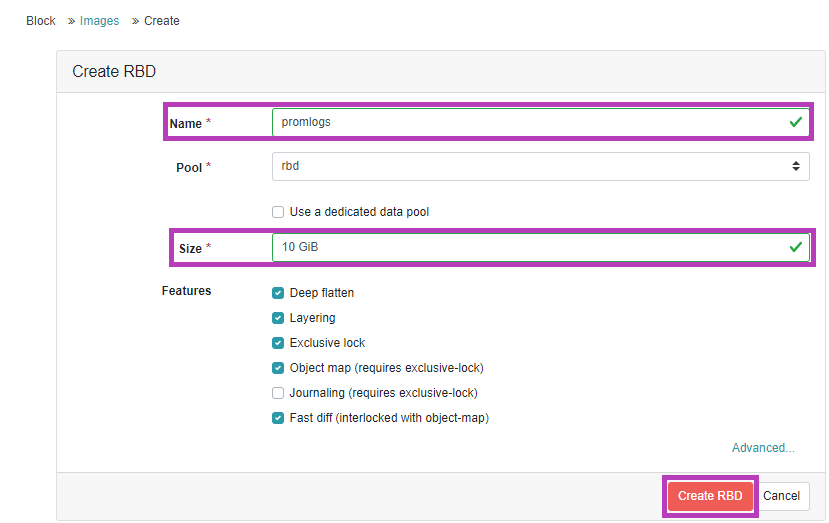 We will now need to map the newly created rbd image through the cli with the following command
rbd map rbd/promlogs --id admin --keyring /etc/ceph/ceph.client.admin.keyring
Then we mount a filesystem with the following command
mkfs.ext4 -m0 /dev/rbd/rbd/promlogs
Then mount this new rbd to /var/lib/prometheus. Note that any files inside /var/lib/prometheus will be removed in the process so make sure to back them up if you want them
mount /dev/rbd/rbd/promlogs /var/lib/prometheus/
To make these changes permanent add the following line to /etc/ceph/rbdmap
rbd/promlogs    id=admin,keyring=/etc/ceph/ceph.client.admin.keyring
We will also need to edit /etc/fstab with the following line
/dev/rbd/rbd/promlogs /var/lib/prometheus ext4 name=admin,_netdev 0 0
Verification:
To verify that the mount has been successful we can run the 'df' command. The output should show the block device mounted to /var/lib/prometheus