Scope/Description
The IPMI is an extremely powerful administrative tool that can give complete access to your server to someone over the network. However, with the power that it has gives it the possibility of being abused by way of a bad actor. For this reason, it is pertinent that you at the very least change the default username and password.
Prerequisites
IPMI configured on the Storinator
Steps
First, log in to the IPMI by typing in the IPMI IP address in the web-browser of a workstation. If you are unsure of the IPMI address, it can be found on-screen during boot, or through your UEFI in the IPMI section.
Once logged in, move your cursor over the Configuration tab. Then click on Users.

Click on the ADMIN user to highlight this option, then click on Modify User.

From here, it may be best to change the ADMIN account to something different from the default, as well as changing the password. Check the Change Password tab, and then type in your new password. Finally, click Modify.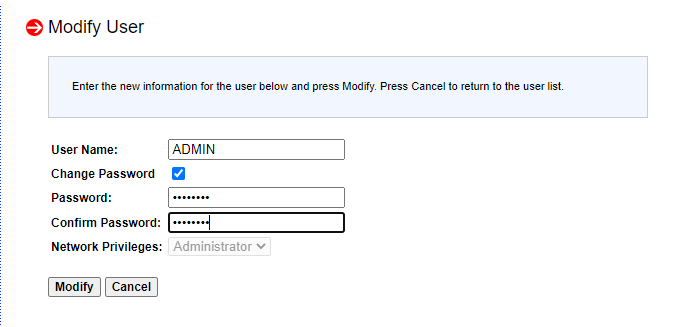 Repeat these steps for new users as needed.
Verification
Try to login with the new password to confirm it changed.
Troubleshooting