KB450417 - Creating SMB Shares on Ceph
Posted on April 8, 2021 by Matthew Hutchinson Scope/Description
This article will walk you through the process of adding additional SMB shares to your existing Ceph Cluster
Prerequisites
Cluster Setup using Ansible
SSH access to the Ansible Admin Node
Steps
SSH to the Ansible Admin node
Navigate to the /usr/share/ceph-ansible/ directory
root@osd1:~# cd /usr/share/ceph-ansible
root@osd1:~# vim group_vars/smbs.yml

Go to the "samba_shares:" listing within the smbs.yml file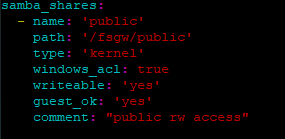 We can utilize the existing template to create additional shares
Edit the configuration.
If you are creating new shares, you will want to delete the pre-existing shares from this file.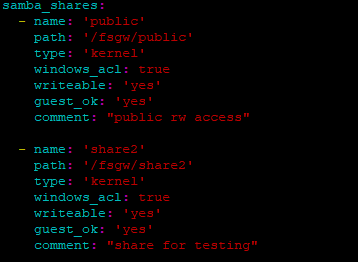 samba_shares:
  - name: 'public'
    path: '/fsgw/public'
    type: 'kernel'
    windows_acl: true
    writeable: 'yes'
    guest_ok: 'no'
    comment: "public rw access"
Rename the share, and change the path to reflect the new Share Name and path to the share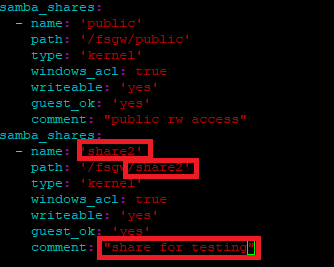 Save the file by pressing Esc then typing ":wq"
In the /usr/share/ceph-ansible directory run samba-share.yml. This will run a playbook to create the new shares.
root@osd1:~# ansible-playbook samba-shares.yml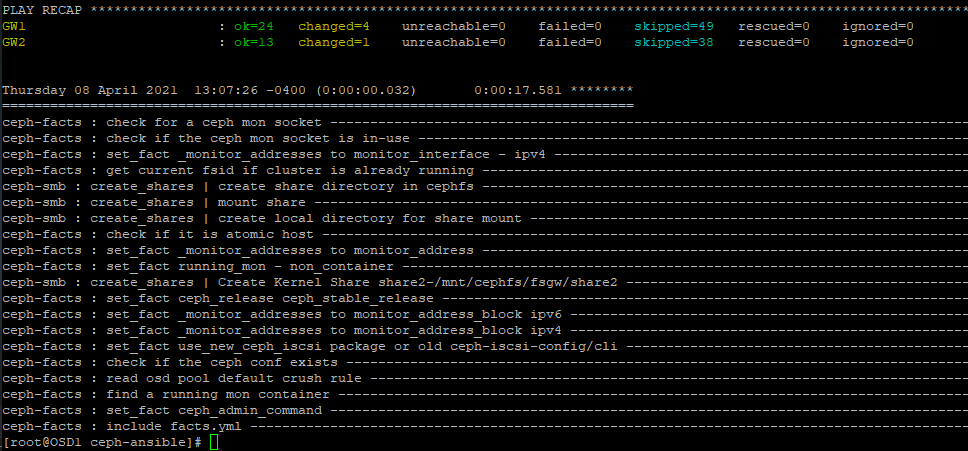 Verification
After the playbook runs you should see yellow and green text, there should be no red.
Run "ssh GW1 testparm -s" to show your shares or SSH into a Gateway node and run "testparm -s"
Troubleshooting
If the playbook fails try running "ansible -m setup all" then rerunning the playbook
Ensure the formatting in "samba shares:" is correct