It is incredibly easy to setup a bonded interface in FreeNAS. This guide will show all the steps involved.
For CentOS network Bonding please visit: Implementing Network Bonding on CentOS 7
Introduction
FreeNAS calls Network Bonding "Link Aggregation" and there are the following policies:
Failover – Sends traffic only through the active port. If the master port becomes unavailable, the next active port is used.
FEC – Supports Cisco EtherChannel on older Cisco switches.
LACP – supports the IEEE 802.3ad Link Aggregation Control Protocol (LACP) and the Marker Protocol.
Load Balance – Balances outgoing traffic across the active ports based on hashed protocol header information and accepts incoming traffic from any active port.
Round Robin – Distributes outgoing traffic using a round-robin scheduler through all active ports and accepts incoming traffic from any active port.
None – This protocol disables any traffic without disabling the lagg interface itself.
Each policy has its benefit, as well as its drawback. There is plenty of FreeNAS documentation out there detailing the uses of each policy.
Creating Link Aggregations through FreeNAS Root Menu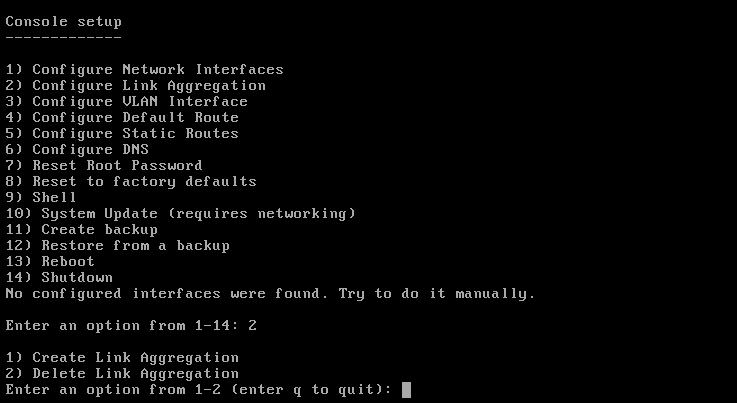 Image of the FreeNAS Root Menu.
Select Option 2 to Configure Link Aggregation
Next, Select Option 1 to Create Link Aggregation
Enter the Protocol that you wish to use (described above)
Select the interfaces you wish to use.
When finished selecting interfaces, enter q to quit.
Reboot before configuring any Network Interfaces.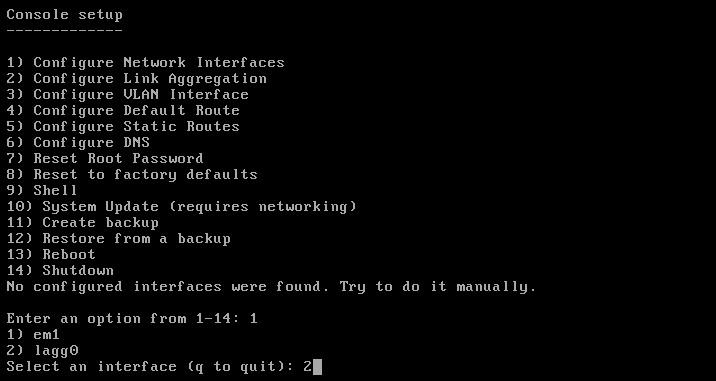 Image of lagg0 ready to be configured as a regular Interface
After Reboot, Select option 1 to Configure Network Interfaces.
Now you can Configure your newly aggregated links as you would for a normal interface. (subnet, ip, ipv4, etc.)
Creating Link Aggregations through FreeNAS WebGUI
The FreeNAS Community has done an excellent job documenting how to do link aggregations through the webGUI, you can find it HERE